Kids screaming, pots overflowing, smoke alarm going off (or is that just my house??), dishes clanking, the toddler spilling his cup while standing on the table and the older children screaming "I DON'T LIKE THAT!"…ahhh, the sweet, docile sounds of dinnertime…
I know that it can be challenging to plan, purchase, and serve meals to a young and growing family especially when you are on a budget! Today, I wanted to share some tips that have worked for us.
1.) Choose 8-10 SIMPLE meals approved by your family to put on rotation.
We want to simplify our meals. We want meals that work, are family friendly, and are easy to get on the table. Having 8-10 meals on rotation will help you when you can't think of what to make for dinner this week, at least when you're first starting out. That doesn't mean you can't try new things (we love Pinterest, of course!) But, having an arsenal of go-to meals will really help take the burden off when you're preparing your meals for the week.
2.) Make a meal plan.
One of the most important ways to create more peace at dinner time, is to have a plan. Meal planning is the single most essential habit that has helped me not only know what's for dinner, but that also saves me time, money, and sanity overall. If you aren't already, plan. your. meals.
3.)Cook once, eat twice.
It's kind of embarrassing how much joy it brings me when I already have the meat cooked, or we have leftovers from last night. So. Much. Joy. Here are some ideas in this area:
Cook a whole chicken one night. Use the remaining chicken for 1-2 more chicken dishes such as chicken soup, chicken enchiladas, or chicken salad.
Make double the taco meat on taco night and freeze it for another day or save it for taco salads for lunch the next day.
Make two casseroles. One to eat tonight, and one to freeze for another night. You'll be so glad you have it.
On the same line, make double to pizza crust on pizza night, and freeze the extra dough or whole pizzas.
4.) Try at least one meatless night a week.
This is something I will be trying to implement more this year. This will help save money. I'm planning on starting simply with probably breakfast at first, but moving on to other meatless meals like pasta, beans, veggie soups and salads.
5.) Keep simple go-to meals in your pantry/freezer.
Mac-n-cheese, chicken nuggets, grilled cheese, soup, pasta and pasta sauce, frozen pizzas. I've lost count how many times these types of meals have saved me at dinner time. When Mom is sick, or you have to have a quick meal, or when the babysitter is coming, it's so  handy to have these ready.
6.) Keep your pantry stocked.
Similar to number 5, keeping your pantry stocked with go-to items will keep your from having to run to the store constantly. Rice, flour, bread crumbs, baking soda and powder, bread, nut butters, oats, oils. Pantry staples will keep your sanity.
7.) Freeze things!
You can freeze eggs, veggies, meat, cheese, bread, fruit, sauces, soups, sandwiches, casseroles, pizza dough, cookie dough, milk…really it's almost limitless. I also want to share this free printable with you from Do It On A Dime blog. A freezer guide! It's really helpful!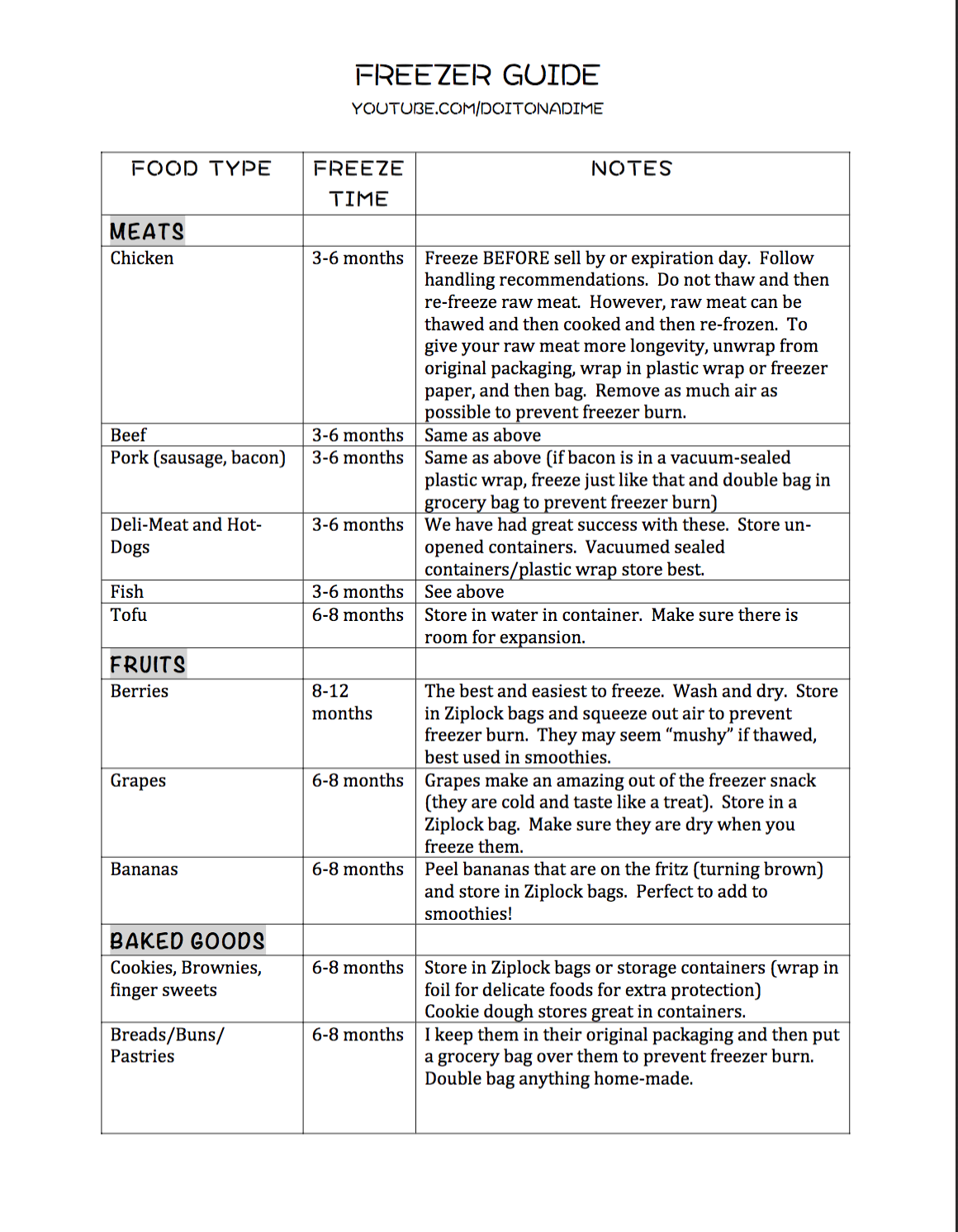 One last little tidbit. I just want to throw this out here…
The purpose of eating is to feed and nourish our bodies. Making meals for our families is to feed their bellies. Hear me on this…it's not about impressing anyone.
Simple meals are essential to save money, time, and effort.
Yes, use Pinterest. Be inspired by meals you see online but let's stop the comparison and just focus on simple, nourishing meals.
I'm hoping this will help you as you create wonderful food for your families!
What are you favorite go-to meals? How do you keep your sanity in the kitchen?